1521 Alton Road #320
Miami Beach
,
FL
33139
Phone:

(888) 613-8959
Dear Friend and Fellow Athlete,
In this week's EliteFitness.com News, we've got more info on the anabolic steroids made by Balkan Pharmaceuticals. Our own Anthony Roberts had samples of their anabolic steroids sent to an independent lab for testing and the results were outstanding. We also have the story about the lab that did the test, but then got raided for testing steroids. It is truly unbelievable.
Balkan Pharmaceuticals: Put to the (Lab) TEST!
From the desk of Anthony Roberts
Professional Bodybuilding Coach
and author of Beyond Steroids
San Rafael Chemical Services Raided
On Friday November 9th 2007, I spoke with Ralph Meibos, the president of San Rafael Chemical Services in Salt Lake City Utah. San Rafael has been doing lab analysis for the supplement industry for 17 years. Basically, the supplement industry uses them for quality control to make sure that their products meet label claim. They had until last week, a DEA license and a company or an individual could send them a sample of a drug to test to make sure it contained what it was supposed to contain.
So, you could send them your multi-vitamin to see if there was as much Vitamin C in the bottle as the lab le claims. You could send them one of your generic heart pills to make sure it was the same as the brand pill. And you could even send them an anabolic steroid sample and they would tell you if it was what you thought it was.
Well, the DEA did not like this and had a problem with San Rafael performing quality control for steroid manufacturers and underground labs. And so they were raided. As a result, they had to surrender their DEA license, so they can no longer work with controlled substances.
The President, Mr. Meibos, is understandably devastated. As he explained to me, the raid was not a financial blow to his business, because the majority of what he tests are dietary supplements, but, the taking of his customer lists, financial records and essentially lots of the documentation he uses to run his business has be a severe emotional blow.
I asked him why he thought he was raided and he offered up several theories:
One is the "low hanging fruit" theory. According to Mr. Meibos, the DEA has been so ineffective at busting narcotics dealers, that they are going after the steroid dealer and he was swept up in that. He even suggested that he believed that the DEA could have thought that he was running a BALCO style lab instead of a chemical testing facility.
He also speculated that the Raid could have been provoked by an unscrupulous underground lab itself. For example, some of the steroids he tested were what they were supposed to be. Others of the steroids he tested were not what they were supposed to be and some samples even contained completely unrelated and dangerous substances. His lab was shining a light on the really bad underground labs passing off one substance as a specific anabolic steroid when it was not. Mr. Meibos speculates that a lab getting a bad quality grade could have vindictively tipped off the DEA.
In my opinion, San Rafael Chemical Services is an innocent victim that got swept up on Operation Raw Deal - the largest steroid enforcement action in U.S. history.
The lab tests on the Balkan Pharmaceuticals steroids were performed just prior to the raid.
Here is the statement that San Rafael issued.
To whom it may concern,
We apologize for having to inform any who care to know of this particular occurrence however, because we strive to operate with honesty, integrity and without discrimination, we have encountered scenarios in which we have not made friends.
Some one or some organization has informed the DEA that SRCS was performing illegal anabolic steroid analysis. We have always maintained and kept current our DEA license for controlled substances and were under the apparent misapprehension that the analyses we have been performing were totally legitimate, well within the scope of the law and a service to the supplement industry.
Whether or not the warrant that was served on SRCS was granted under false pretenses, we were raided on October 25th, 2007 by agents from several agencies including DEA, State Commerce Commission, and local law enforcement who over the course of the day cloned our computer hard drives, confiscated most all of our retained samples as well as our analytical and financial records for the previous five or more years. Any and all documentation and records we had pertaining to samples received, email and personal financial information, client lists and standards lists were confiscated and will be reviewed extensively by whomever the DEA deems worthy.
We voluntarily surrendered our controlled substances license and will no longer be capable of providing analysis for the aforementioned substances. Because of the total confiscation of all our documentation, the production of timely requests of analyses in progress will be affected negatively. We will do all we can to get back up to speed and minimize to the best of our ability any interruptions in service for "non-regulated" substances as soon as we can. We apologize deeply for any inconvenience and negative impact this will have.
Sincerely,
San Rafael Chemical Services, Inc.
Discuss San Rafael Chemical Services - SRCS raided by DEA on the EliteFitness.com Forums.
We see lab tests posted every day on the internet. They're usually posted on various steroid forums, with no person named as who they were originally sent to, and no signature at the bottom.
In my estimation, they're useless, for the most part.
So when I was contracted to do a series of articles for EliteFitness.com about Balkan Pharmaceuticals, I immediately wanted to do one about their quality control and obtain lab tests showing what kind product they were actually putting out; and of course, I wanted them mailed directly to me from the lab, with signatures on everything. I wanted to own hard copy of everything, and I want someone's name on each test, that would vouch for the legitimacy of each and every test.
San Rafael Chemical Services provided all of the latter. This required several things on my part. First, I had to contact the company who had conducted the tests and ask to talk about them. They were actually very accommodating. I made sure that each test was done on an unopened bottle, with the fliptop still previously attached, and that the identification numbers were intact and visible – which they all were. Why did I want this information? Well, because the bottles were sent in by a third party (not me), and if the tops weren't on, or serial numbers were not present, then I would suspect that the bottle had been tampered with. In this case, however, everything was intact, and these bottles are EXACTLY what you would get if you got one straight from the factory.
The lab that did the testing personally confirmed all of that to me. Alright, I know you're satisfied (as I was) that these tests are on the up and up now, so I'll let you in on how they went.
Remember, the facts I'm presenting to you are the best ones I have…as far as I understand it, Balkan Pharmaceuticals makes several different lines of anabolics, some veterinary and some Human Grade, etc…the tests I have are only that…the tests I could personally get my hands on, regardless of product. So keep that in mind as you're reading this. I spoke with SRCS several times on the phone regarding this series of tests, and corresponded with them via both e-mail and regular mail, just to make sure everything was on the up and up.
Unfortunately, not long after I finished writing this article, SRCS was the subject of an inquiry by the federal government for being involved with testing anabolics (see gray sidebar).
First, let's talk about the basics, and that means we need to see how one of the Balkan Testosterone products stacks up.
We're taking a look at Balkan Pharmaceuticals Sustamed 250, the first licensed pharmaceutical 4-ester blend to hit the market since Omnadren.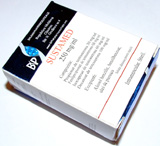 According to the HPLC (High-Performance Liquid Chromatograph) tests SRCS performed on this product, it came out to have an extra 10mgs of testosterone in it (260mgs/ml). This is obviously very accurately dosed, easily falling within FDA standards for accuracy. View the Sustamed 250 Lab Test.
Lately, I've been very interested in Multi-Ester blends, and if I were to buy a Balkan version of testosterone, this would be the one I'd be using. Balkan offers this product in several different presentations, so if you're looking, they've got some bad-ass looking amps and boxes available. Ok, so now we know that there's a nice accurate human grade blended testosterone product on the market. I'm pretty happy with that knowledge, as many people seem to be preferring the blended testosterones after my last article concerning steroid esters.
Since Negma discontinued their Parabolan product a couple of decades ago, there's been no human grade Trenbolone on the market. Now, I have a couple of nice lab tests showing that Balkan Pharmaceuticals Trenbolone Forte (the Enanthate Ester) is within 3% of label claims (6 mgs over dosed, or 206mgs/ml instead of the label claim of 200), and their Trenbolone Retard (which uses the original ester from Parabolan) came in at 108mgs/ml (label claim is 100mgs/ml). View the Trenbolone Forte lab test.
For many people (professional bodybuilders especially), Tren is the drug they turn to right after testosterone. And of course, looking at the pictures of Balkan Pharmaceuticals Trenbolone products, you can certainly see that they have that dark gold/brown color which is the signature shade of trenbolone. Now, remember, although there's a lot of lab tests floating around, I'm only using the ones which SRCS directly signed and sent to me, which examined unopened bottles with the serial numbers intact. So this means I do not actually have a test for every single product Balkan Pharmaceuticals produces, but I have a lot, and I'm very pleased with the results for the most part.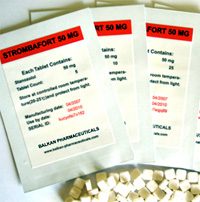 Their quality control seems to favor overdosing in most cases, and is generally very reasonably accurate.
So let's take a look at some of the orals I've seen tests for… I've gotten my hands on 2 tests for the varying doses available of Strombafort (Stanozolol) tabs (10mg and 50mg sizes respectively). The 50mg tabs tested out at a very accurate 50.5mgs/tab and the 10mg tabs tested out to be 10.6mgs/tab. View the lab tests for the 10mg tabs and the 50mg tabs.
Needless to say, I'm very happy with that result. Again, this is basically within FDA guidelines. I believe that these lab tests show everything that they can; in other words, Balkan Pharmaceuticals has produced a line of products which contain what they should, and are dosed to within acceptable parameters. I would personally have no reservations using their products in my future cycles, as long as I were in a part of the world where that was legal…

What if you had unlimited access to...? Tried and Tested Anabolic Steroid Suppliers.

Just think of the amazing physique of hard lean muscle you could build!
Now for the first time, there's a no-hype eBook that will
help you find genuine, highly regarded, anabolic steroid suppliers
. Filled with lots of trusted web sites and complete contact info - so that you can get the results you want, faster and without having to waste your money, risk your health or get into unnecessary legal problems.
Don't get ripped off buying steroids, use
the VERY BEST supplier list available anywhere today
- so you don't have to take chances on an unproven supplier or worse get burned.
You also get a massive Scammer list of bogus operations you need to avoid. Plus all the secrets for making sure your packages sail through customs. Find out more.

PS: Here's another note from the desk of Anthony Roberts.
Using the Latest Bodybuilding Drugs for Huge Muscular Success!
From the desk of Anthony Roberts
Professional Bodybuilding Coach
and author of Beyond Steroids

Dear fellow athlete,


I hope you'll check out my new e-book that's about how you can use the very latest bodybuilding drugs. In the 300+ pages, I'll tell you how to build muscle using human growth hormone (HGH), Insulin-like Growth Factor 1 (IGF-1), Humulin-R Insulin, Mechano Growth Factor (MGF), Lr3IGF-1, MK-677, SM-130686, Somatokine, Tabimorilin (NN703), and a host of other growth hormone derivatives and designer anabolic steroids for developing the massive, muscular body of your dreams. My e-Book is titled Beyond Steroids, because it does just that... It shows you how to take your physique Beyond Steroids and it's published by EliteFitness.

In Beyond Steroids, I take all the old school bodybuilding steroids and show you how to use them in innovative new ways - ones that will promote lightning-fast muscular gains. I'll also show you how to take all the old school bodybuilding drugs and stack them with all the new GH, IGF-1 and Insulin growth factors for even more muscle building benefit.

As George wrote in his Promo letter, "If you are an educated steroid user with a couple of cycles under his belt, yet you still don't have the truly massive, "dry" muscular look of paper thin skin stretched tightly over tremendous, sinewy muscle that is completely devoid of body fat, then Beyond Steroids was written for you, because it will get you to that level faster than you ever thought possible."

But, my book is not for the sucker who let's his dealer plan his cycles and will run whatever counterfeit gear the guy has around at the moment. And it is definitely not for the complete steroid virgin. However, if that doesn't sound like you, and I don't think it does given that you already come to Elite, then I really hope you'll click here to read George's promo letter very closely. Why? Because this letter is all about my Beyond Steroids program that is the real deal for taking your physique to the next level of muscular perfection and surpassing even the toughest plateaus you may hit. Plus, George has added some nice extras for the members this week only.

Follow this link to go Beyond Steroids!


Best regards,

Anthony Roberts
Yours in sport,
George Spellwin
George Spellwin